I have been out of work for 3 months now - I came to Uganda with some savings - not alot, needless to say that they are all gone now! I have had to dip into my loan, which I hate to have to do. Especially when I am going to be paying interest on it and have no income! Getting into debt is a vicious cycle that is so hard to break out of!
What does the future hold for me and Nathanial?
I know with all my heart that coming to Uganda and adopting Nathanial was God's plan for my life and for Nathanial's life and I believe it still is.
Things haven't been easy, and I am worried about money and not working.
This is God's plan and with that thought I should not have one single fear about the future, where money will come from and where we should go next or whether we should stay in Uganda.
I don't know. I really don't know what the immediate future holds. I just know my hope comes from the Lord and that he never forsakes us, ever.
I cast all my worries, all my fears, all my anxieties at the foot of the cross and I walk away. He carries our burdens, he takes care of our fears and worries. Sometimes it is not in the way that we hope and expect but he is always answers our prayers.
I love the footprints poem it reminds me that Jesus is with us through hardship even though we may feel alone he is besides us and he even carries us through the difficulties. He never forsakes us.
FOOTPRINTS by Mary Stevenson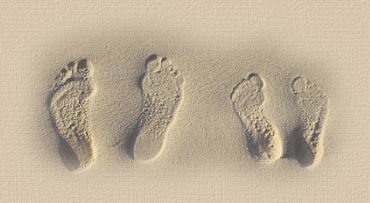 One night a man had a dream. He dreamed
he was walking along the beach with the LORD.

Across the sky flashed scenes from his life.
For each scene he noticed two sets of
footprints in the sand: one belonging
to him, and the other to the LORD.



When the last scene of his life flashed before him,
he looked back at the footprints in the sand.

He noticed that many times along the path of
his life there was only one set of footprints.



He also noticed that it happened at the very
lowest and saddest times in his life.

This really bothered him and he
questioned the LORD about it:

"LORD, you said that once I decided to follow
you, you'd walk with me all the way.
But I have noticed that during the most
troublesome times in my life,
there is only one set of footprints.
I don't understand why when
I needed you most you would leave me."



The LORD replied:

"My son, my precious child,
I love you and I would never leave you.
During your times of trial and suffering,
when you see only one set of footprints,
it was then that I carried you."